After gaining interest in minimal music in his student days, Joe Hisaishi started his career as a contemporary composer.Over the last 30 years, he has been well known to have composed for many film scores; he has also been touring as a conductor in the last year.However, During this time, he has also continued to compose minimal music, the music which started his love for composition.
In 2014, Hisaishi started his extremely unique concert series 'MUSIC FUTURE' where he personally hand selects the repertoire in hopes of introducing new composers to the Japanese public.
The first of the concert series, 'Vol.1' in 2014 saw him introduce the works of Arvo Part and Henryk Gorecki as well as two of his new minimalistic compositions.He also performed music by Nico Muhly, a renowned post-classical composer – A genre seemingly popular with the younger generation in recent days. In 'Vol.2' (2015) he performed Steve Reich's 'Octet', John Adams' 'Chamber Symphony' and his own work, this time with largely monophonic features, including 'Single Track Music 1 for 4 Saxophones & Percussion' and 'Chamber Symphony' for six-string electric violin.'Vol.3' (2016) included a programme of works by Pulitzer Prize winner, David Lang and 'Chamber Symphony No. 1 in E major, Op. 9' by Austrian composer Arnold Schoenberg. 'Vol.4' (2017) introduced Gabriel Prokofiev's 'String Quartet No. 2' and Hisaishi's own composition 'Chamber Symphony No. 2 – The Black Fireworks' performed on Bandoneon by Kazuma Miura.'Vol.5'(2018) he invited soloists Maya Beiser (cello) and Molly Netter (soprano). In this year, he also joined forces with his great friend David Lang which saw him perform not only in Tokyo but also in New York. And last year saw the 6th of the concert series: 'Vol.6'(2019) where he welcomed the world-renowned piano duo, Maki Namekawa and Dennis Russell Davies. He also performed his own compositions again and Philip Glass''Piano Sonata' which created a huge buzz in Japan. In Vol.8(2020) , he introduced a piece by Nico Muhly who couldn't come to Japan due to the influence of the pandemic."Vol.8″ in 2021 introduced pieces such as Bryce Dessner and Lepo Sumera.Be sure not to miss the 9th of these amazing, ever-evolving concert series'MUSIC FUTURE'going ahead this year!
Young Composer's Competition
Excellent works, winners decided!
The winner of the Excellence Award from among all entries was
"Gimmick Bach 3" by Tetsuya Yamamoto.
"Gimmick Bach 3″ will be performed at "Joe Hisaishi Presents Music Future Vol. 9" on October 26 and 27!
Tetsuya Yamamoto
Born in 1989 in Nagano. Tetsuya Yamamoto studied composition at Kunitachi College of Music, Marseille Conservatory and ational Conservatory of Lyon. He has received several awards: Composition prize André Chevillon – Yvonne Bonnaud at the 14th International Piano Competition of Orléans (2020), Prize winner at "Île de créations 2018" composition competition by the Orchestre national d'Île-de-France, 1st Prize at the 6th International Antonín Dvořák Composition Competition (2015), Prize Winner at the 27th JSCM Composers Award (2010), etc. He was featured in the program of Radio France "Création mondiale" with his orchestral piece "In the circle…" in 2018. Currently, he is studying orchestral conducting at Lille Conservatory and Royal Conservatory in Mons.
(WEB: 
http://www.tetsuyayamamoto.net
)
REVIEW
This work faced the theme "ensemble without a conductor" the most faithfully. Also, the intellectual manner of composing and sense of humor are attractive.
Kenji Ashimoto
The idea has little originality. In addition, the outcome of composing with that idea is less appealing.
Akira Nishimura
Gimmick Bach
is a very exciting piece, which uses rhythm in a playful and powerful way. Right from the beginning, we have a sense of pulse, after which the composer starts making interjections and tricky little variations. I admire the patience of the composer, where [he??? she???] remains inside material for just the right amount of time; it's very considered and well-proportioned. I like the contrast between pulse and freer rhythm, and the whole shape is very satisfying.
Nico Muhly
Phrases are too short because each idea isn't effectively used enough.
In this kind of minimal approach (in the sense of repeating an idea consisting of a few notes), you must restrain yourself and adhere to a single idea. The listeners cannot understand what you try to express if you care about only giving variations.
Joe Hisaishi

Joe Hisaishi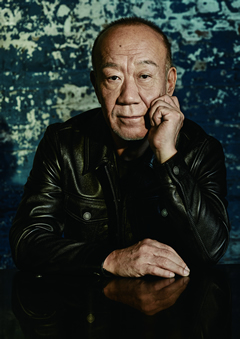 Joe Hisaishi started to show his interest in minimal music when he was a student at Kunitachi College of Music, Japan and started his career as a contemporary music composer. Presentation of MKWAJU in 1981 and the release of his first album "Information" in the following year was the kickoff of his career as a solo artist. Starting with Nausicaa of the Valley of the Wind (1984), Hisaishi has produced music for 10 Hayao Miyazaki films. He also composed the music for HANA-BI directed by Takeshi Kitano, Departures directed by Yojiro Takita, Villain directed by Sang-il Lee, The Tale of Princess Kaguya directed by Isao Takahata, What A Wonderful Family! series directed by Yoji Yamada.
Hisaishi also is well-reputed as a skilled performer, ranging from piano soloist to orchestra conductor. In 2004, he assumed a post of first music director of New Japan Philharmonic "World Dream Orchestra (W.D.O.)". He also starts to present world tour "Joe Hisaishi Symphonic Concert: Music from the Studio Ghibli Films of Hayao Miyazaki"(visiting Paris, Melbourne, San Jose, Los Angeles, New York, Prague and Brussels & Lyon, etc.).In recent years, he works as a classical music conductor and also composed new works in a contemporary music style, including "TRI-AD for Large Orchestra"(2016), "The East Land Symphony"(2016), "ad Universum"(2019) and "Border Concerto for 3 Horns and Orchestra"(2020). Hisaishi has collaborated with a wide range of artists including Philip Glass, David Lang, Mischa Maisky, and orchestra Hong Kong Philharmonic, Melbourne Symphony Orchestra, Singapore Symphony Orchestra among others.
Since 2014, he has been working as a producer and conductor, and holding contemporary music concerts called "JOE HISAISHI presents MUSIC FUTURE", which concert series earned him enormous popularity and records as a live album. In 2019, he also started leading a concert series "Future Orchestra Classics (FOC)"and released Beethoven Symphony Box CD that was given "Special Prize" from 57th Record Academy Award Japan 2019.He is appointed two new positions : Composer in Residence and Music Partner with New Japan Philharmonic Orchestra from September 2020, and Principal Guest Conductor with Japan Century Orchestra from April 2021.
His unique inputs to the concerts as a contemporary musical composer is highly appreciated and his continuous enthusiasm for musical activities that go beyond ordinary creative work is anticipated worldwide.
オフィシャルサイト http://www.joehisaishi.com/